Announcements

Macy's Strike! Come out to support striking Stationary Engineers at Macy's Union Square on Thursday, September 17th from 2 - 6 PM.
Engineers at Macy's are on strike across CA. Join SF Labor as we converge on the flagship store in Union Square and show Macy's that SF is still a UNION TOWN. Engineers are fighting for healthcare and living wages and Macy's are being typical corporate villains. While their CEO raked in 9 million in bonuses, they are squeezing their workers for concessions.
These workers are on an open-ended strike and need our support. While the CEO of Macy's received a $9 million bonus, the Stationary Engineers at Macy's are being paid 20% below market rate and being asked to pay more for their healthcare costs -- unconscionable during a pandemic.
We will build to critical mass for a rally at 3:30 PM, where we will send Macy's a clear message that all of Labor stands with the Stationary Engineers in demanding healthcare and dignity on the job. Be sure to wear a mask -- and your local union garb. For more info you can check out the Facebook Event Page.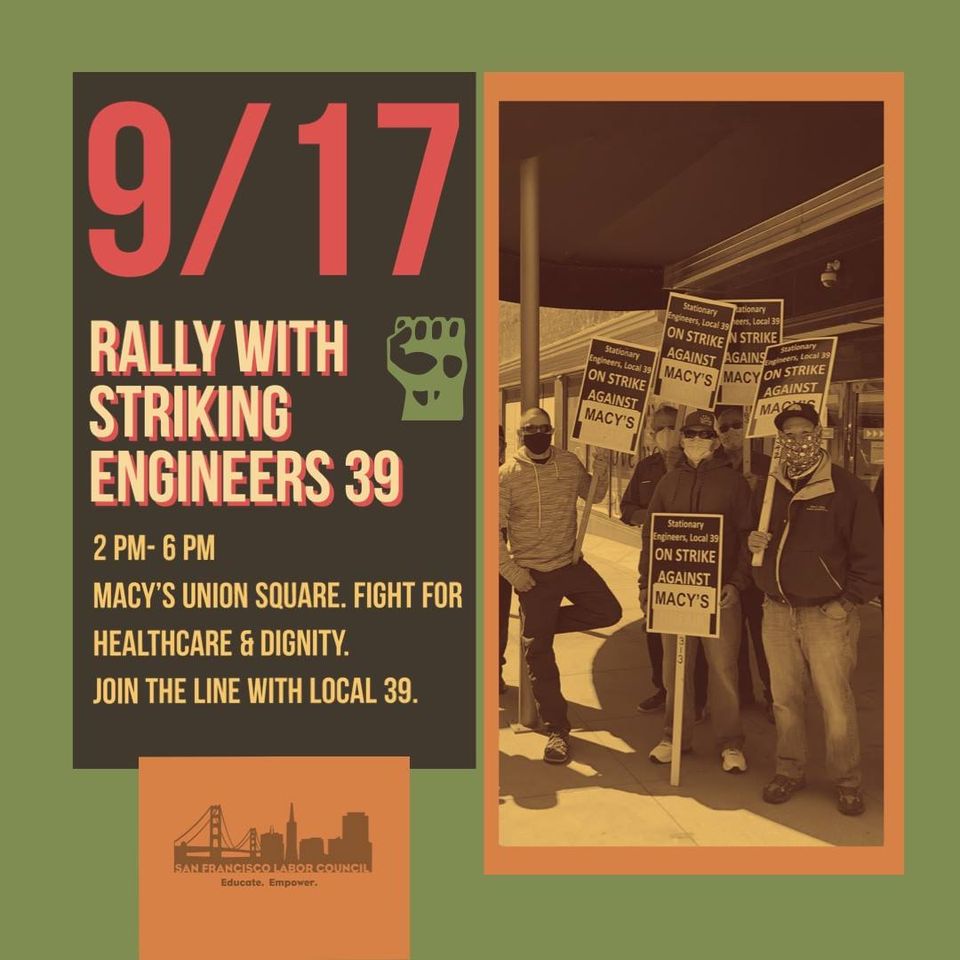 SOLIDARITY - SF LABOR COUNCIL

Labor's 2021 Legislative Priorities Zoom Discussion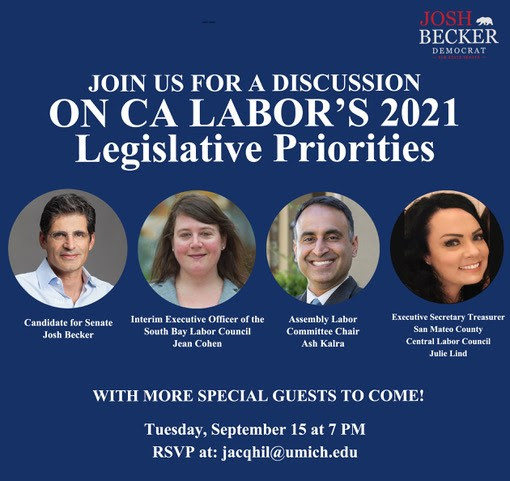 RSVP to jacqhil@umich.edu to receive the Zoom link.

Yes on 15! No on 22! Phonebank
https://calaborfed.org/no-on-prop-22-faq/
Prop 15 was put on the ballot by a record-breaking 1.7 million people who believe that wealthy corporations need to pay their fair share. If you believe that we need to close corporate tax loopholes to invest billions every year in schools, community.
On September 2nd, CA Assembly Speaker Pro Tempore Kevin Mullin will welcome volunteers and speak on these two important ballot measures that have critical, far reaching implications for our workers, our schools and our communities. We will have have special guest speakers like Asm. Mullin at each phonebank.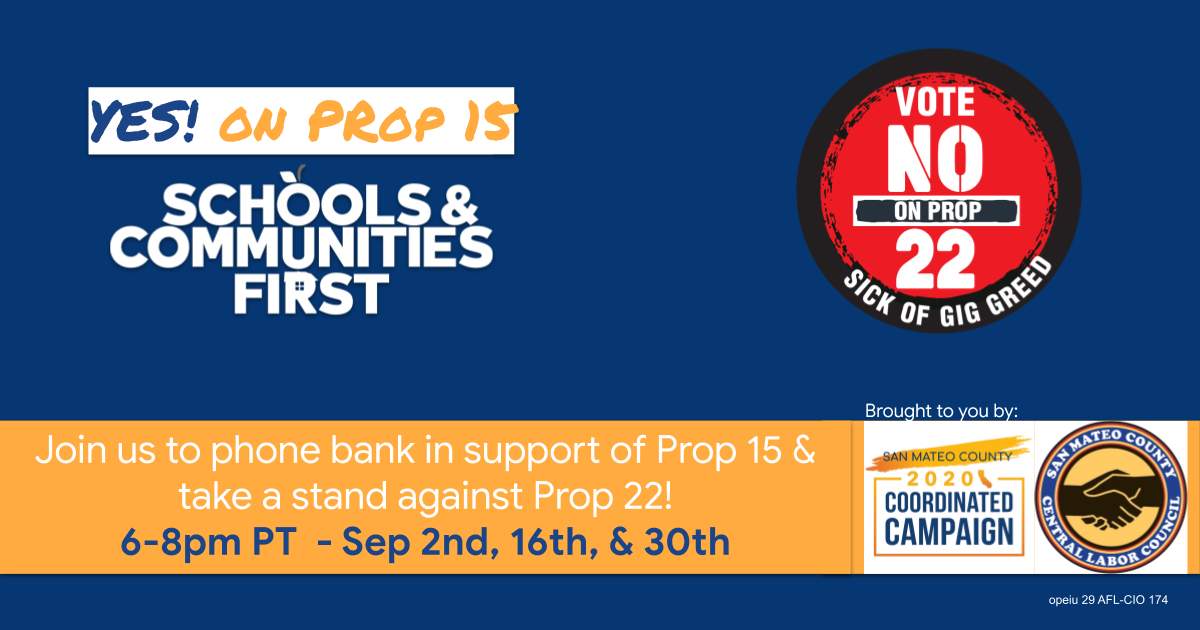 We will be using an autodialer, so you'll only be connected with people that answer the phones. Easy to use. No voicemails. No wrong numbers.
Got questions? Reach out to San Mateo County Democratic Party field coordinator Rudy Espinoza: respinoza@cadem.org | 929-232-5647.
See you in action,

San Mateo County Central Labor Council
1153 Chess Dr., Suite 200 Foster City CA 94404
(650) 572-8848
www.sanmateolaborcouncil.org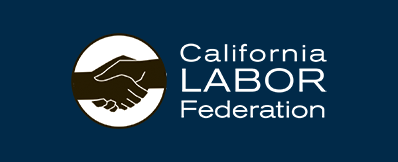 Help DEFEAT Uber and Lyft's harmful Prop 22.
GET THE FACTS!
https://calaborfed.org/no-on-prop-22-faq/
What is Prop 22, the Uber/Lyft Ballot Measure?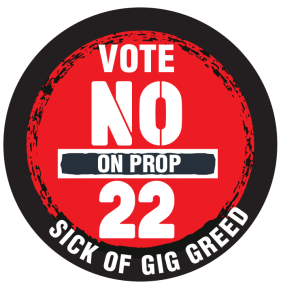 Uber, Lyft, Instacart and Doordash wrote Proposition 22 to create a special exemption for themselves from California law that requires app-based companies to provide basic protections to their workers. Now they're spending more than $100 million on Prop 22 to boost their profits by denying their drivers' right to a minimum wage, paid sick leave and safety protections.
BACKGROUND:
• Uber, Lyft, Instacart and DoorDash paid to put Proposition 22 on the ballot. They hired lawyers to write a misleading initiative and paid political operatives millions to collect the voter signatures they needed.
• Prop 22 is a carve out in law that allows Uber and app companies to deny their drivers rights and protections like paid sick leave, workers compensation or unemployment benefits.
• Prop 22 exempts these multi-billion-dollar gig corporations from contributing to safety net programs we all need like Social Security, Medicare and Unemployment Insurance
• Prop 22 makes us all less safe by eliminating safety protections for riders and drivers and any liability these wealthy companies have to consumers.
• This measure threatens good, middle-class union jobs. If these companies succeed in buying this election, their low-pay, no-protection business model will expand in virtually every industry, leading to unprecedented job loss and a race to the bottom.
• Prop 22 ONLY applies to Uber and the app companies. It is designed to maximize their profits at the expense of taxpayers and their drivers. The measure creates a competitive advantage for giant corporations that hurts workers and small family-owned businesses.
• Current state law requires Uber and the app companies to provide their drivers with rights and protections, just like every other California business. The Attorney General recently sued them for breaking this law. You can help stop this power grab that hurts workers and taxpayers.
Prop 22 was written for app companies, by app companies — NOT for workers and our families.
VOTE NO ON PROP 22
For NO on Prop 22 materials,
contact acatsoulis@calaborfed.org or ssmith@calaborfed.org for access to our private site
San Mateo County Food Distribution

Please consider joining us to volunteer. Each distribution requires about 60 volunteers to make sure it runs smoothly, and we could use the help!
While the typical volunteer shift is 8:30am - 1:00pm, increased traffic on Rollins Road as a result of the large numbers of cars coming through to pick up food makes ensuring traffic safety even more essential. If you can, please join us early (around 7:15am) to help with traffic control both outside and inside the parking lot. As always, sign in and loading volunteers remain needed as well. Please email Community Services Director Rayna Lehman if you (and any of your members!) are able lend a hand at Rlehman@UWBA.org.
Join the South Bay Labor Council and Fight back to Uplift Democracy.
Can we count on you? Will you demand that the San Jose City Council correct the Clerk's gross mismanagement by putting the San José Fair Elections Initiative on the November 2020 ballot? The integrity of our local elections depends on it.
Please take action by calling the Mayor and telling him to put the Fair Elections Initiative on the ballot.
San Francisco Food Pantries
https://www.sfmfoodbank.org/find-food/
Monday
Golden Gate Park Senior Center, 9 am – 1 pm
6101 Fulton St, San Francisco, 94121
SF Ballet, 9 am – 1 pm
333 Fulton St, San Francisco, 94102
Tuesday
Cesar Chavez Elementary, 9 am – 1 pm 825 Shotwell St, San Francisco, 94110
Mission High School, 9 am – 1 pm Registration Required – Bring ID to register on location.
3750 18th St, San Francisco, 94114
Stonestown (Drive-thru only), 11 am – 2 pm Registration Required – Register HERE
501 Buckingham Way, San Francisco, 94132
Wednesday
Kezar Stadium, 12 pm – 4 pm
670 Kezar Dr, San Francisco, 94118
Stonestown YMCA (Walk-up), 12 pm – 4 pm Registration Required – Bring ID to register on location.
333 Eucalyptus Dr, San Francisco, 94132
Thursday
Bessie Carmichael Elementary, 9 am – 1 pm
375 7th St, San Francisco, 94103
Friday
Cow Palace, 9 am – 1 pm Registration Required – Bring ID to register on location.
2600 Geneva Ave, Daly City, 94014
Oracle Parking Lot (Drive-thru only), 11 am – 2 pm Registration Required – Register HERE
Cars line up on the southern side of Terry A Francois Blvd.
74 Mission Rock St, San Francisco, 94158
Saturday
Minnie & Lovie Ward Rec Center, 9 am – 1 pm
650 Capitol Ave, San Francisco, 94112
Oracle Parking Lot (Walk-up), 9 am – 1 pm
74 Mission Rock St, San Francisco, 94158
Marin Food Pantries
Wednesday
Bayside MLK, 10.30 am – 12.30 pm
200 Phillips Dr, Marin City, 94965
Northgate Mall (Drive-thru only), 11 am – 2 pm Registration Required – Register HERE
Cars line up on the South side of the mall, near Restoration Hardware Outlet.
9000 Northgate Dr., San Rafael, 94903
Thursday
San Geronimo Valley Community Center, 12 pm – 2 pm
1 Lagunitas School Rd, San Geronimo, 94963
Friday
Tamalpais High School, 10:30 am – 12:30 pm
700 Miller Ave, Mill Valley, 94941
Saturday
Kerner Drive-thru Pantry, 10 am – 2 pm
2550 Kerner Blvd, San Rafael, 94901

– Check Your Local Labor Council Website for Current News and Information:

Alameda County Central Labor Council (510) 632-4242
San Francisco Central Labor Council (415) 440-4809

Page Last Updated: Sep 17, 2020 (15:46:03)